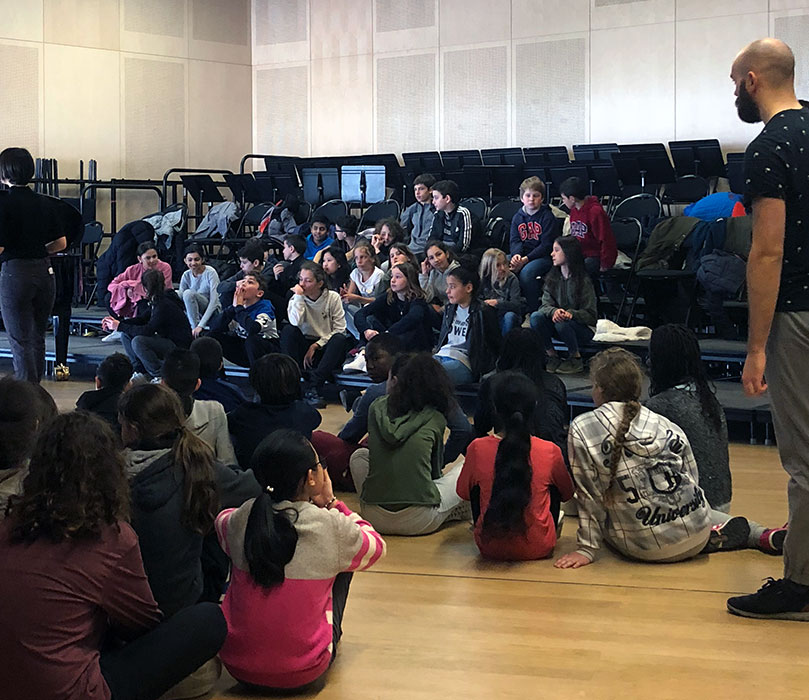 David Stern a réalisé la rencontre entre Bach, notre temps et les générations futures, en réunissant sur scène danse, chant et cultures urbaines. Aux côtés des solistes d'Opera Fuoco, de danseurs et d'un trio de jazz, des collégiens restituent un travail mené pendant deux ans, célébrant Bach tout en scat et en hip-hop.
Outreach in partnership with the Philharmonie de Paris and the Compagnie Par Terre/Anne Nguyen.
Public:
1 class of 5th grade from Collège Molière in Ivry sur Seine
1 class of 5th grade from the Edgar Varèse College in Paris 19ème
Sessions:
In 2018: Students are introduced to scat through canons, concertos and inventions composed by Bach.
In 2019: With choreographer Anne NGuyen and the Compagnie Par Terre, counterpoint and harmonies are translated into gestures and the young people's movements embody every subtlety of the music. Each piece will be performed in scat by college students and Opera Fuoco soloists accompanied by a jazz trio.
Final performance at the Philharmonie de Paris on June 13, 2019.
https://philharmoniedeparis.fr/fr/activite/concert-performance/19627-bach-en-scat
Intervenants : Natalie Perez (soliste), Benoît Rameau (soliste), Aurélie Reybier (chef de chant), Thomas Lavoine (pianiste), Camille Taver (pianiste), danseurs de la Compagnie Par Terre.